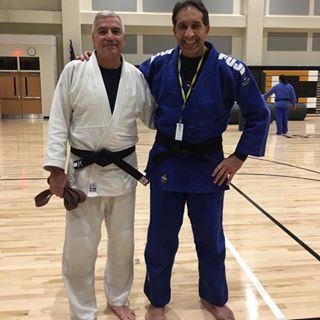 A 6th Degree Black Belt Kodokan Judo, Head Instructor Tech Judo Club
Sensei Clyde Worthen started judo under Mr. Yoshisada Yonezuka at the Cranford Judo Karate Center. Earned 1st degree black belt after 21/2 years of training and became the first of many national champions and international competitors to represent the club. His judo background includes many years of teaching and coaching. He also lived and trained in Japan for 5 months and competed throughout the world. Currently he is a teacher and facilities coordinator for the Hudson County Schools or Technology, which hosts Tech Judo.
Coaching
Certified coach – USA Judo
Coached many students to national and international level.
Coached 1992 Olympic team for pre-olympic European training tour.
Coached U.S. team for Rodriguez Cup in Cuba.
Championships and Awards
Member of 4 U.S. World Judo teams
8 consecutive New Jersey State championship titles
Senior National middleweight champion
Pan American gold medalist
North American Black Belt middleweight champion
Current National Masters middleweight champion 2001 – 05
Mission in Judo
To introduce the sport of judo to as many people as possible, regardless of their abilities and levels of participation. To set a positive example for all whom I may teach or may step on our mat. To teach our young students that effort, self improvement, courage and sportsmanship are as important as winning.
Favorite Quotes
There is a lot of luck involved in winning. You will find the harder you train the luckier you get. If I throw you I learn. If you throw me I learn. Judo, it's a good system.